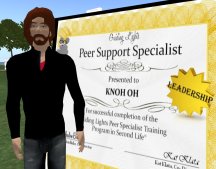 The Guiding Lights group in Second Life offers 6 session course on doing peer support within Second Life.
It is put on by Avalon Birke, RL Board Certified Counselor and psychotherapist; Kat Klata, highly experienced online healthcare support person.
I finished all 6 courses, and they were quite good.  Lots of role play, outstanding guest lecturers, and  super classmates.
If you are thinking about, or already doing, online peer support, I think you will find these classes helpful. I highly recommend them.  You need not go to every meeting if you do not want to pursue certification.
I graduated with honors for the work I did on a group discussion simulator.
More about  Guiding Lights Peer Specialist Training.