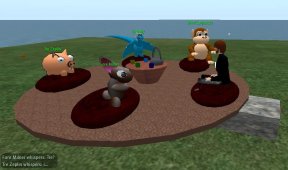 I've been taking peer support courses through the Guiding Lights in Second Life.  It's been very interesting, with some great speakers, and a super group to work with.
To help with this sort of training, I am developing a simulated discussion group consisting of 4 fake avatars.
It has two modes.  One can run automated dialogs that demonstrate various issues and techniques that may happen during a meeting. This dialog can be stopped and continued.  Further, the dialog can pause itself to allow one to type in their own responses.  The other mode lets the various fake avatars puppet what someone else chats.  Thus, a trainer can control what each of the fake avatars say.  (One can combine both modes as well.)
I currently have 2 automated dialogs concerning healthcare support groups available.  The first is a general chat, demonstrating possible issues, and techniques.  The second addresses issues of tolerance and includes pauses for the trainee to come up with their own responses.
It would be easier to merely have a notecard, or web page, with the dialog all written out, but it wouldn't capture the timing of events in a group, nor, possibly, the surprise.
It would be easier not to have the fake avatars, but it brings the experience closer to being a discussion group.  Actually sitting down, surrounded by avatars, helps make the training more real, and a better learning experience.
The simulator is in beta currently, but send me an email and I'll get a copy to you.  I'm releasing it under a creative commons license with full permissions, so please feel free to change it around.
I think it will be useful to those training to lead group discussions in any setting.
#Update April 18, 2009.  My apologies, but earlier versions of the Group Simulator I gave out may not have all the permissions set up properly.  I intended to give it away with full permissions to the new owner.  If you did a fixed copy, please let me know.