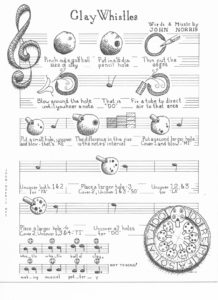 Ever want to make a clay whistle? How about a complete instrument?
This note is to help one make and play a four hole ocarina. You can forget the extra holes if you just want a whistle.
It may take a bit of practice to get the right angle on the edge of the hole. Try blowing at different angles and sides of the hole until you hear a tweet. If all else fails, seal up the hole and make a new one with a different angled edge.
Worksheet, music, & lyrics released under a Creative Commons license.

This work is licensed under a Creative Commons Attribution 4.0 International License.